Over 65,000 Members!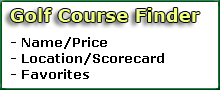 Greenskeeper.org Info
"Know Before You Go"
free online community, golf social network, golf course reviews, course maintenance alerts, photos, specials, tee times, outings, more.
---
Golf Course Maintenance Alerts
8 Posted
Golf Course Reviews
Angeles National Golf Club
Sunland, CA
Reviewed by:

roarksown1, Playa del Rey
Played Angeles National this past Sunday with Johnny, Mattias and Kassper7 and we rode the white tees for a nice $60 fee that Mr. GK himself got us set up with. I was also playing my initial round on the Flex Tour thingy that I'm trying out this year for the first time, and we had our own little match play going on after Perry and I took down the Swede and the Grand Poobah at B...
» More
Del Monte Golf Course
Monterey, CA
Reviewed by:

Alex326, Monterey, Ca
I was itching to get out and play, as I hadn't been out since Jan.1 and probably won't get to play again before heading down south to Aviara in about a week. Decided to chance the weather and head to Del Monte which is an easily walkable course. Track has slight elevation changes on a few holes but nothing major. Just enough to keep it fun. We had light rain for the fir...
» More
Desert Forest Golf Club: Private
Carefree, AZ
Reviewed by:

Kristof, Melbourne
Super course. Played in December but all in great condition. There is no overseeding at DF so there are no damp areas and they let it go brown over winter. It is a pristine course on a very compact layout with narrow fairways but no fairway bunkers, only one big one - the desert. The greens ran quite smoothly and reasonably fast - maybe around 10 . I would play it again in a tr...
» More