Over 65,000 Members!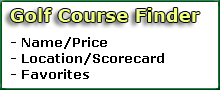 Greenskeeper.org Info
"Know Before You Go"
free online community, golf social network, golf course reviews, course maintenance alerts, photos, specials, tee times, outings, more.
---
Golf Course Maintenance Alerts
931 Posted
Golf Course Reviews
Rancho Park Golf Course
Los Angeles, CA
Reviewed by:

bigdana, san diego
One of the best layouts in Los Angeles but in poor condition. POP was good at 7am on a Friday but the conditions all around are poor. Tee areas are uneven, fairways are bad and so are the greens. Rolling about 7 and bumpy. Couldn't help noticing the locals I was playing with disrespecting their own course and not repairing ball marks or divots. Pretty sad to see this at one of ...
» More
Terra Lago (South), The Golf Club at
Indio, CA
Reviewed by:

JohnnyGK, Thousand Oaks
Played with sixpez and Nickesquire Thursday morning. Was my first time playing Terra Lago after all these years. It pleasantly surprised me. I knew not to expect excellent playing conditions typical of the higher end Palm Springs golf courses which I have been accustomed to playing. Also the South golf course was fresh out of overseeding. What surprised me was how interesting, ...
» More
Dos Lagos Golf Club
Corona, CA
Reviewed by:

24hourgolf, Monterey Park
OK time flies. 7 years since I played here last (why - maybe traffic coming home). Played this morning in 3 H. We took advantage of the weekend Sr deal ($29). Greens were punched on 8/9 of this month and are still healing. Some of them are better than others and those had good putting speed, but I think at least another week? But overall, they were all playable. We found the te...
» More