Over 65,000 Members!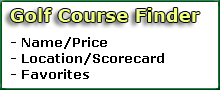 Greenskeeper.org Info
"Know Before You Go"
free online community, golf social network, golf course reviews, course maintenance alerts, photos, specials, tee times, outings, more.
---
Golf Course Maintenance Alerts + COVID-19 Coronavirus
954 Posted
Golf Course Reviews
Primm Valley Golf Club (Desert)
Primm, NV
Reviewed by:

arguswilson, San Diego
Greens were recently verti-cut. I'd guess they need at least three more weeks to heal. This was some aggressive trenching! As a result, putting parallel to the cuts would often see the balls fall within these tracks and stay there—like the ball was on a rail. Putting perpendicular to the cuts, would see the ball bounce up and down like it was going over little curbs. (It was.)....
» More
Primm Valley Golf Club (Lakes)
Primm, NV
Reviewed by:

arguswilson, San Diego
The lakes course is in much better shape than the Desert course. Both courses are terrific layouts. But the desert's greens are in rough shape. Both courses are also very rough around the edges—weeds, patches of dead grass, bunkers without much sand, tee boxes are not level. The conditioning doesn't match the outstanding layout. But i suppose the price reflects that. The lake...
» More
Encanto Golf Course (18)
Phoenix, AZ
Reviewed by:

demarv04, Phoenix
I got out to Encanto in the afternoon with a 2:30 tee time. Rate was $45 with cart. The course wasn't full but a number of players out. They have taken protective measures in the clubhouse and on the course. A plexiglass window separates you from the pro shop attendant. No sand bottles on the carts, no rakes in the bunkers and the holes all had foam inside to keep you from reac...
» More