Over 65,000 Members!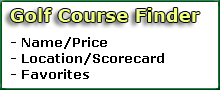 Greenskeeper.org Info
"Know Before You Go"
free online community, golf social network, golf course reviews, course maintenance alerts, photos, specials, tee times, outings, more.
---
Golf Course Maintenance Alerts
57 Posted
Golf Course Reviews
Bayonet Black Horse GC (Bayonet)
Seaside, CA
Reviewed by:

Alex326, Monterey, Ca
I hadn't played Bayonet in a while (I usually play the sister course Blackhorse). Bayonet is a bit tighter in the fairways, but the greens have a TAD less undulations, but are quicker. Overall, Bayonet is in great condition as usual. Greens were smooth and very fast. They are on the firm side so anything less than a perfect well struck full approach shot has no chance of ...
» More
Angel Park Golf Club (Mountain)
Las Vegas, NV
Reviewed by:

rob1563, Las Vegas
Back on the home course on Saturday, 12/15. $50 with the OB Card, teed at 8:20ish, and finished in just over 3 1/2 hours with John_T and his dad.
Course was in great winter condition. Tee boxes mostly level, some divot damage. Fairways were lush, no thin spots, the re-seed has taken very well, except along the water on #2. Rough was 1-2 inches and fairly lush. New bun...
» More
Paiute Golf Resort Las Vegas (Snow Mountain)
Las Vegas, NV
Reviewed by:

rob1563, Las Vegas
Played on Friday, 11/25 (really sorry about the delay!), on a windy, chilly morning. Played in about 4 hours, paid $70 as a PACC member guest.
Typical Paiute conditions. Nice, level, almost divot free tee boxes. Carpet like fairways with complete tee to green coverage. Rough was about 1-2", just enough to cause a problem. Bunkers were decent, a bit firm. Greens were phen...
» More