Over 65,000 Members!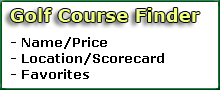 Greenskeeper.org Info
"Know Before You Go"
free online community, golf social network, golf course reviews, course maintenance alerts, photos, specials, tee times, outings, more.
---
Golf Course Maintenance Alerts
371 Posted
Golf Course Reviews
Silverado Resort & Spa (North Course)
Napa, CA
Reviewed by:

JSpin, Redlands, Ca
Played here recently at a pre conference golf outing. Just a few weeks after hosting the Safeway Open, the course is in superb condition. Fairways, bunkers and greens were immaculate. I guess it's owned and partially redesigned by Johnn Miller. Off the tee, there's plenty of room to operate and there's nothing particularly penal. Obviously an old school design except for the gr...
» More
El Dorado Park Golf Course
Long Beach, CA
Reviewed by:

sd3bs, Temecula, CA
Played a few weeks back during the week. Thought it would be a little less busy. HA! They were about 45 minutes behind already at 8 am - not a good sign. Any course that routinely books fivesomes is never going to be on time or have any quick rounds midday. The tee boxes were all very level with fairly good coverage. All of the fairways had pretty good coverage with the e...
» More
Tehama Golf Club: Private
Carmel, CA
Reviewed by:

Alex326, Monterey, Ca
Played Tehama on a picture perfect day (sans some smoke in the air). In fact the weather was so nice I was upset that after the third swing on the range I had to ditch my Ryder cup sweater. I've been waiting two months to wear it! we did a little holiday shopping in the pro shop (couldn't pass up $25 "The Clint" polos), then headed off to the range. Even the range at Teh...
» More