Over 65,000 Members!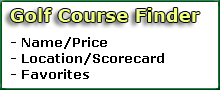 Greenskeeper.org Info
"Know Before You Go"
free online community, golf social network, golf course reviews, course maintenance alerts, photos, specials, tee times, outings, more.
---
Golf Course Maintenance Alerts
397 Posted
Golf Course Reviews
River Ridge Golf Course (Vineyard)
Oxnard, CA
Reviewed by:

rgm2525, chatsworth
Played 11-10-19 early morning riding as a twosome for $45 and finishing in about 2 1/2 hours. Tee boxes were in decent condition, mostly level, semi-lush with the grass starting to go a little dormant. Fairways were mostly in nice shape, 70% green and 30% brown or yellow with some thin lies and decent roll out. Rough was cut down pretty low and mostly in good shape with some th...
» More
Wood Ranch Golf Club: Private
Simi Valley, CA
Reviewed by:

24hourgolf, San Marino
Played today in a Folds Of Honor Tournament. Event sponsored by Tee It Up Golf. It was a long day of fun golf. Course was in decent condition. Fairways have gone dormant and soft. Tee boxes were OK. Traps were in good shape. Greens were running @ 11 and chipped/putted extremely well. The staff provided excellent customer service for 120 players. Great day of golf for a great or...
» More
Oakmont Country Club: Private
Glendale, CA
Reviewed by:

Burcham5, Valencia
Rode the whites in the Beyond the Bell Event Sponsored by Liberty Mutual. I got an invite from my boss. We all no there is no such thing lol, so I went. This is an old school country club surrounded by beautiful older homes. I'm usually into checking out the clubhouse, but today for some reason I didn't. Staff was friendly in the pro shop as well as the event staff. Having play...
» More