Over 65,000 Members!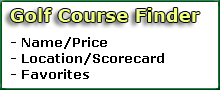 Greenskeeper.org Info
"Know Before You Go"
free online community, golf social network, golf course reviews, course maintenance alerts, photos, specials, tee times, outings, more.
---
Golf Course Maintenance Alerts
50 Posted
Golf Course Reviews
San Clemente Golf Course
San Clemente, CA
Reviewed by:

weber, coto de caza
I rarely play "away" on the weekends, but with an out of town friend visiting, decided San Clemente was the perfect venue. How wonderful to play this course with great weather, although a little cool in the beginning of the round, it warmed up nicely. Staff was as always very friendly and accommodating. ( Somehow I got out for the resident rate? )
As prior review ind...
» More
Wilson Golf Course
Los Angeles, CA
Reviewed by:

RSandberg, Manhattan Beach
Why is the playground sand in the sand bunker? Because they had leftover, is what I am told. They are terrible and have been for two years. The LA county courses are making tons of $$ with driving range profits, playing profits. I have seen a cut back on all the course of the maintenance crews. The gophers have complete control or Wilson. So bad, hit a perfect drive in the mid...
» More
Silverbell Golf Course
Tucson, AZ
Reviewed by:

jamesg18015, Phoenix, AZ
My first review after lurking on this site for years and finding a lot of helpful information, so it's about time I give back some.
The course conditions were pleasantly surprising. Apparently this course is managed by OB Sports for the city of Tucson, and OB has been doing a great job with some of the Phoenix muni courses I usually play during the past 2 years. Fairway...
» More