| | |
| --- | --- |
| | Win a Million Bucks at Las Vegas Rio Secco Golf Club |
| | |
| | |
| --- | --- |
| | Page: | 1 | |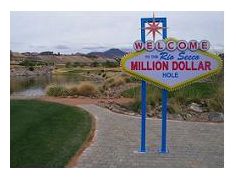 Las Vegas, Nevada (February 25, 2012)--Las Vegas' Rio Secco Golf Club always has big things happening. Whether it is playing a round with the world famous T-Mates female caddies, getting a golf lesson from Butch Harmon, or just bumping into a Tour player or celebrity, Rio Secco is the place to be. And another continual event that takes place at Rio Secco on a daily basis is the Million Dollar Hole-in-One Challenge. Click now for details about the Million Dollar Hole in One and how to get your chance at a million bucks with one swing of the club.
--By Brian Hurlburt, follow @LVGolfinsider

For More Las Vegas Golf News/Deals Visit www.GolfLasVegasNow.com

There are a couple different ways to become eligible for the ultimate Million Dollar Hole in One contest which takes place April 28, 2012. Any golfer who makes an ace on the par 3, 7th hole between now and April 2012 earns a spot and one swing at a million dollars. Or with any registered green fee you earn a ticket in a drawing for 3 golfers each month (starting in November 2011 until April). Also, if you play the "Hit the Green" promotion you will earn extra tickets (and have a chance to double your money--or bet--when you play the seventh hole.) Also with a hole in one during qualifying you will win a complete golf makeover from official sponsor Nike Golf.


Want to play Rio Secco? Click now for the official website and links to online Las Vegas golf tee times at Rio Secco. Also, click now for Las Vegas tee times information about Cascata, another Rees Jones Las Vegas golf courses owned and operated by Caesars Entertainment.

Also, each Million Dollar Hole in One qualifier receives a VIP Las Vegas golf vacation courtesy of Caesars Entertainment. Official company invitation and information: "When you come to Las Vegas for the Rio Secco $1,000,000 Hole Finals, you'll get (3) nights in a luxurios Caesars casino, one round of golf at both Rio Secco and Cascata, a tee gift at both courses, and ground transportation. This is one event you need to be a part of!"

About Rio Secco Golf Club from course management: "This Las Vegas golf course was designed and built in 1997 by golf course architect Rees Jones. The course lays at the foothills of the Black Mountain Range 13.5 miles southeast of the Las Vegas Strip. Rio Secco can play to over 7,400 yards and very difficult, but also offers four teeing grounds to allow golfers of any skill level a memorable golf experience. Features include 6 holes through steep canyons, 6 holes on a plateau overlooking the city and 6 holes in a broad desert wash. Our course is legendary among local residents and avid golfers alike for the tremendously challenging, fair, and demanding course layout. Rio Secco is owned and operated by Caesars Entertainment, Inc. and welcomes guests from all the hotels in Las Vegas / Henderson Area."



Brian's Bio Brian Hurlburt, the VegasGolfInsider, is the Founding Editor of www.GolfLasVegasNow.com, the definitive source of Las Vegas golf news, deals, and information for the World's Ultimate Golf City. You get direct access to the official websites of Las Vegas' golf courses at the website, plus inside news and more from Hurlburt, who has been writing about golf in Las Vegas for 20 years and is the author of the recently-released 240-page coffee table book, The Las Vegas Country Club: Chronicle of an Icon. Follow @LVGolfInsider


Keywords: Golf Packages, Travel, Rio Secco, Cascata, Golf Course, Las Vegas, Nevada.