Over 65,000 Members!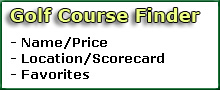 Greenskeeper.org Info
"Know Before You Go"
free online community, golf social network, golf course reviews, course maintenance alerts, photos, specials, tee times, outings, more.
---
Golf Course Maintenance Alerts
151 Posted
Golf Course Reviews
Admiral Baker Golf Course (North)
San Diego, CA
Reviewed by:

weber2323, San Diego, CA
Was 2nd off yesterday as a 3some following what seemed to be regulars in the first group. Not as fast as I expected to play being second off as the first group took their time. Still finished at 4 hours thou.
Greens have small holes punched but this didn't effect putts in my opinion. The number of ball marks both unrepaired and repaired improperly were more of an is...
» More
Montebello Country Club
Montebello, CA
Reviewed by:

24hourgolf, Monterey Park
Played early this AM in 2.5 H. Course is in nice shape at the moment. Tee boxes all fine. Fairways have good coverage, lies and roll. Bunkers (just putt out of them) are still the same, so avoid at all costs. Rough is not a factor. Greens are in good shape and chip/putt and hold shots very well. Customer service excellent at all levels. Presently from what I have seen in the ar...
» More
Arrowood Golf Course
Oceanside, CA
Reviewed by:

zgolfinman, Oceanside
Played on a sunny (finally) late AM on 5/17. I agree with gary00's review of 5/15 so no need to duplicate it.
I will make a few positive comments:
-excellent customer service
-nice practice areas.
-excellent GPS unit on cart.
-great deal with the Palm Card.
-good to see that sand fairway bunker on #4 gone. It's now a grass bunker so it should be easier to get out of.