Over 65,000 Members!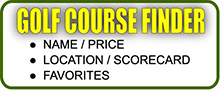 Greenskeeper.org Info
"Know Before You Go"
free online community, golf social network, golf course reviews, course maintenance alerts, photos, specials, tee times, outings, more.
---
Golf Course Maintenance Alerts + COVID-19 Coronavirus
117 Posted
Golf Course Reviews
Rustic Canyon Golf Course
Moorpark, CA
Reviewed by:

ag2000, Moorpark
Played Rustic 11/27/20 on a Red Flag/Black Friday. The Red flag warning said winds could hit anywhere up to 35 MPH plus, and the course become that much more difficult. As the 2nd group out to what turned out to a pleasantly warm late November morning. The group ahead walked a quick round and we rode, finished 18 in just under 4hrs. Rustic is a Links lovers dream, as on a non-w...
» More
Alhambra Golf Course
Alhambra, CA
Reviewed by:

24hourgolf, San Marino
Have family in for Thanksgiving. One adult and one junior. So Alhambra was the best place to go. Nice warm day and nice and quiet. Played in a nice pace of 3.5 H. Course is in really nice shape. They do still have the tee boxes roped off, making the course shorter. So if that is acceptable to you then play it. Tee markers were in spots that are getting over used. So they better...
» More
Eagle Falls Golf Course
Indio, CA
Reviewed by:

zeppelin51423, manhattan beach
Played eagle falls 2x last week, the first on 11/21 and then again on 11/24. The course is coming out of overseed and had no cart restrictions. Fairways & tees are pristine. Greens are smooth with no pitch marks, a bit slow but this is expected out of overseeding. They did not overseed a lot of the grass in between tees and greens and outer rough areas so you will be getting th...
» More