Over 65,000 Members!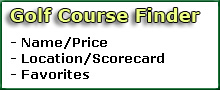 Greenskeeper.org Info
"Know Before You Go"
free online community, golf social network, golf course reviews, course maintenance alerts, photos, specials, tee times, outings, more.
---
Golf Course Maintenance Alerts
101 Posted
Golf Course Reviews
Mission Hills CC (Dinah Shore): Private
Rancho Mirage, CA
Reviewed by:

Nickesquire, Rancho Mirage, CA
Rode the ANA tees (6783/73.1/136) in 4.5H using Club Corp. Matched up with a nice 3some, we played in clear, breezy conditions in the low 80's.
Very fun and challenging layout with alot of water to navigate. Several holes have inlets where the water juts out 1-2 times into the fairway. Tough course to judge how much you could bite off until you play here a few times. Hug...
» More
Los Robles Greens Golf Course
Thousand Oaks, CA
Reviewed by:

weber, coto de caza
Today was a very long day ! When living in Westchester, I used to play Los Robles fairly often, but since moving to Orange County, because of the distance, I rarely play here any more. So when a friend living in Thousand Oaks asked me to join him, I agreed. I almost always play super early, so I am not used to 4+ hour rounds.
After fighting 100+ miles of traffic, al...
» More
Chardonnay Golf Club
Napa, CA
Reviewed by:

deandodge, san francisco
I play here often - Course is great condition for winter and no rain-all good lies in fairway - greens always great shape and roll pretty true - rough is short - got behind tourney and almost 5 hours - usually only about four hour round-one of the good things about it - all grass range - nice people - go have fun.