Over 65,000 Members!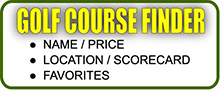 Greenskeeper.org Info
"Know Before You Go"
free online community, golf social network, golf course reviews, course maintenance alerts, photos, specials, tee times, outings, more.
---
Golf Course Maintenance Alerts + COVID-19 Coronavirus
136 Posted
Golf Course Reviews
Arrowood Golf Course
Oceanside, CA
Reviewed by:

weber2323, San Diego, CA
Teed off early this morning at a little after 6. There was another group in front of us and as we were on the tee a 2some pulled up behind us so we let them go ahead. Pace was awesome. As we were on the 18th tee box the group behind us was on the 15th tee box.
Fairways are pretty dormant so there was a lot of roll if you found them. In fact I nearly drove the 1st...
» More
Mt. Woodson Golf Club
Ramona, CA
Reviewed by:

adigitalg87, Hemet
Played Mt. Woodson for the first time Tuesday the 2nd. 1:20 pm tee time. Pop 4 hours. We were a twosome in between two foursomes. There is no gps and some blind tee shots as the group behind us hit up on us a few times mostly towards the finishing holes. The course shuts down next week for maintenance. Poa greens they rolled nice. Fairway was dormant and tee boxes were a mix...
» More
Morro Bay Golf Course
Morro Bay, CA
Reviewed by:

Nickesquire, Cambria, CA
Walked the Blues (6083/69.6/116) in 4H, 15M early morning. Played with Pete, Tom and Christian, very relaxed group to play with. Overcast, breezy and around 60. $34 to walk with the SLO Co. card is a good deal on the weekend IMO.
Morro Bay looks alot more like a mountain course than a beach course. Hilly, tree lined with no water less than a mile from the ocean. The tre...
» More