Over 65,000 Members!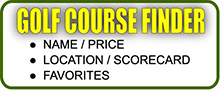 Greenskeeper.org Info
"Know Before You Go"
free online community, golf social network, golf course reviews, course maintenance alerts, photos, specials, tee times, outings, more.
---
Golf Course Maintenance Alerts + COVID-19 Coronavirus
273 Posted
Golf Course Reviews
Cypress Ridge Golf Course
Arroyo Grande, CA
Reviewed by:

Nickesquire, Cambria, CA
Rode the Blues (6443/71.3/128) mid day in 4H, 15M with Mneilson and Sal. Sunny, fairly calm in the mid 60's.
COVID-19: 1 rider to a cart. Doodles in the bottom of the cups. No on course services.
Tees were the weak link. Okay coverage but far too many unfixed divots.
Fairways have lots of undulation. Usually good to play from with occasional brown patche...
» More
Soule Park Golf Course
Ojai, CA
Reviewed by:

xcamman, Valencia, CA
Played early this morning. I have wanted to drive out and play since I read what great shape Soule is in through GreensKeeper.org. My buddy and I were not disappointed. We both agreed that Soule is in the best shape we've ever played it. We played as a twosome and it was pretty slow until the foursome ahead of us (they were apologetic) let us play through on the start of the...
» More
Enagic Golf Club at Eastlake
Chula Vista, CA
Reviewed by:

JohnnyGK, Thousand Oaks
Out with GK Gurus on Wednesday 7/9 1:45pm to play Enagic Golf Club at Eastlake for the first time. Very enjoyable. Thank you everyone that came and my group Gary (gary00) and Steve (sparky14).
Since launching Greenskeeper.org back in 2002 I've followed Eastlake (former name) with curiosity in the beginning reading mix reviews and eventually with sympathy as reviews ab...
» More