Over 65,000 Members!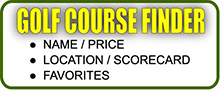 Greenskeeper.org Info
"Know Before You Go"
free online community, golf social network, golf course reviews, course maintenance alerts, photos, specials, tee times, outings, more.
---
Golf Course Maintenance Alerts + COVID-19 Coronavirus
389 Posted
Golf Course Reviews
Marshall Canyon Golf Course
La Verne, CA
Reviewed by:

chevelle, Norco
Played Friday Sept 18th at 7am, check in fast and friendly. Putting green is still closed?????? We followed 2 2 some and after the 1st hole never saw them, POP was 410 and that was all us, there was no one in front of us and no one behind us. Since that was the case my partners lost many ball and spent allot of time looking for balls. The course was very empty. The course ...
» More
Fairmount Golf Club
Riverside, CA
Reviewed by:

zjeska, Leisure Village
Played a quick 9 with the boys at this classy almost 100 yr old + track. Gotta say the conditions here are really pretty dAmn nice for a sub $10 9 hole track. #2, #6 and of course the BEAST OF THE IE #9 as always are not easy holes. Fairways pretty lush, well cut and watered. Sand in bunkers better than many of the so called "daily fee" goat farms out there that just cant or w...
» More
Palmbrook Country Club
Sun City, AZ
Reviewed by:

demarv04, Phoenix
I went to Palmbrook for probably the last time today on a 130 tee time. As the previous reviewer noted this is a value course but a great place to play. I have to say the guys in the clubhouse are the most helpful and welcoming employees. They are always positive and friendly to my son.
Great value like I said with range balls included, great carts with GPS, and good course...
» More