Over 65,000 Members!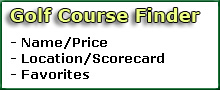 Greenskeeper.org Info
"Know Before You Go"
free online community, golf social network, golf course reviews, course maintenance alerts, photos, specials, tee times, outings, more.
---
Golf Course Maintenance Alerts
635 Posted
Golf Course Reviews
Bayonet Black Horse GC (Bayonet)
Seaside, CA
Reviewed by:

Alex326, Monterey, Ca
Bayonet is a tough challenging track with nice views of the Monterey Bay. Greens are a tad easier than the sister course but still are very tough with a lot of undulations. Greens are firm and fast. Getting pitch shots and approach shots with long irons can be challenging. Getting a putt to roll smooth is not.
Fairways offered good roll and a decent surface to h...
» More
Mountain Meadows Golf Course
Pomona, CA
Reviewed by:

weber, coto de caza
Out early, perhaps the second or third group, but it was still somewhat dark. Course is in good condition, better than I expected. Greens were the best part of the course, Fairways green, plenty of coverage. Only in one bunker, well raked with good sand
While I have never been a huge fan of this course, it is probably the most interesting county course, a rather uniq...
» More
Woods Valley Golf Club
Valley Center, CA
Reviewed by:

apisarski, Costa Mesa
Finally got to play some golf this last Sunday, as i have been nursing a fractured hand ... Joined some old friends at Woods Valley in Valley Center played a little scramble. One thing i always notice is how dry and hard packed the driving range is which always make me worried on course conditions. One thing to note is Valley Center area is under water restrictions and the rang...
» More