Over 65,000 Members!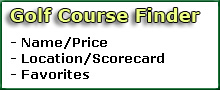 Greenskeeper.org Info
"Know Before You Go"
free online community, golf social network, golf course reviews, course maintenance alerts, photos, specials, tee times, outings, more.
---
Golf Course Maintenance Alerts
941 Posted
Golf Course Reviews
Bonita Golf Club
Bonita, CA
Reviewed by:

Kahoutek, San Diego
Played Bonita with a 1pm start time on Saturday. The fairways are cut very tight, and there are the browning patches you would expect to start seeing as the weather turns cooler. Greens have recently been punched, and have not fully recovered, but still putted at a medium, medium-fast speed. It was a gorgeous day to be out, and many other people seemed to have had the same t...
» More
Corica Park Golf Complex (South)
Alameda, CA
Reviewed by:

deandodge, san francisco
Played today and all greens are sanded! watch out they didn't tell me on the phone.
Cottonwood Golf Club
El Cajon, CA
Reviewed by:

Long4par, San Diego
Wanted to give this course another try. Saw the last review was well over 2 years ago and it's been at least that long since I have played here. They closed the lakes course a few years ago so Ivanhoe is the only 18 holes available.
Booked on line for this am at $33 with cart. They offer military discount to $30 with cart. They closed the original range and moved a sm...
» More