Over 65,000 Members!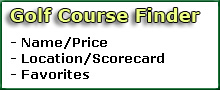 Greenskeeper.org Info
"Know Before You Go"
free online community, golf social network, golf course reviews, course maintenance alerts, photos, specials, tee times, outings, more.
---
Golf Course Maintenance Alerts
344 Posted
Golf Course Reviews
The Crossings at Carlsbad
Carlsbad, CA
Reviewed by:

sbarajasjr, San Diego
Played here today (7/21) with fellow GK member Jon P. on a 10:12 tee time. Rates here were a little more than I would normally pay but thankfully I had a gift card from a previous scramble win that made it easier to swallow. Conditions today were just as described in Alex's last review and perhaps a tad better even. I was very impressed how well the course has held up in this h...
» More
Talega Golf Club
San Clemente, CA
Reviewed by:

roarksown1, Playa del Rey
First time playing Talega this weekend with a monthly group that moves all around SoCal finding new places to play. I was excited to test my game at this challenging course, and I'm actually glad that my group (12 players) all decided we'd play the white tees so the skins would be even. I don't think I would have had as good of a time struggling with some of the carries and nar...
» More
Tahoe Donner Golf Course
Truckee, CA
Reviewed by:

rudyclub, San Diego
Played 7/21/19 Course is still trying to recover from the winter. I had not played here in 30 years. Layout is fun with a good mix of holes. Fairways were in decent shape with good coverage. Many bare areas mixed throughout. Greens were very bad. Some had maybe 70% Coverage All were very bumpy with dead or sick areas covering entire green. No way to take putting serious under c...
» More