Over 65,000 Members!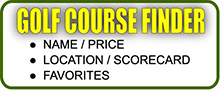 Greenskeeper.org Info
"Know Before You Go"
free online community, golf social network, golf course reviews, course maintenance alerts, photos, specials, tee times, outings, more.
---
Golf Course Maintenance Alerts
233 Posted
Golf Course Reviews
La Purisima Golf Course
Lompoc, CA
Reviewed by:

GDR23, Thousand Oaks
Walked the blacks this morning 6/19/21 at 10:20am with my buddy Pedro with beautiful weather 1 club wind low 70s Temps. Pop was 4 hrs 25 minutes. Thanks to Stacy and her staff which are very friendly for getting us out during a crowded morning.
The greens were very soft today and held shots very well, Very receptive greens. The greens rolled true. I have seen them qui...
» More
Rancho Del Sol Golf Club
Moreno Valley, CA
Reviewed by:

Itslikeimsayin, Aliso Viejo
Played here today with a 2:00 tee time reserved on their website for $40. Check in went smoothly. The starter out by the practice green paired me with another single and we started a bit early. Pace was excellent and we finished in just under 3 hours. With very hot temperatures, it was great to constantly keep moving and finish so quickly. There was also a pretty good breeze mo...
» More
Black Bear Golf Club: Private
Parker, CO
Reviewed by:

24hourgolf, San Marino
We ended our golf and retirement party here this morning. It is also a short drive to DIA to get home in time for Fathers day. If I was residing in Denver this would be my home course. Plus you have rights to Blackstone just miles away. Black Bear has 4 of the hardest par 3's IMO that you will find on a golf course. With that said, there are many forced carries and elevation ch...
» More