Over 65,000 Members!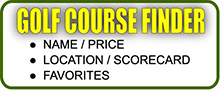 Greenskeeper.org Info
"Know Before You Go"
free online community, golf social network, golf course reviews, course maintenance alerts, photos, specials, tee times, outings, more.
---
Golf Course Maintenance Alerts
128 Posted
Golf Course Reviews
Tecolote Canyon Golf Club
San Diego, CA
Reviewed by:

140ver, san diego
Ok, not sure Tecolote made too many top 10 or 100, maybe even 500 lists. It's a par 58 in a canyon about a mile from Mission Bay for those unfamiliar. Played early Thanksgiving morning with Greg, Ashwin and Arya. Check-in was about as low-key as it gets. Front desk friendly and accommodating. Tee boxes were pretty chewed up, but easy to find a place to hit from. Fairways ...
» More
Kapalua (Plantation Course)
Lahaina, HI
Reviewed by:

24hourgolf, San Marino
Played yesterday. Got out early and did not have to deal with the wind. This is one of my top 5 courses on my top ten list. If I could live in Maui I would play this and the Bay course 5 days a week. And go fishing the other two. To me it is a beautiful location for a course and the staff at all levels is just wonderful. We found the course to be in very nice shape all round. T...
» More
Pacific Grove Golf Links
Pacific Grove, CA
Reviewed by:

Alex326, Monterey, Ca
A tale of 2 nines. Everyone talks about the difference in layout and views between the front and back nine. Well today the conditions were as different as night and day between the front and back.
Front nine, the greens were bumpy and slow. The back nine they were smooth and rolled at a medium- fast pace. Fairways on the front were decent. Mainly lush and green wi...
» More