Over 65,000 Members!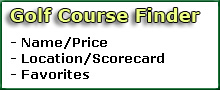 Greenskeeper.org Info
"Know Before You Go"
free online community, golf social network, golf course reviews, course maintenance alerts, photos, specials, tee times, outings, more.
---
Golf Course Maintenance Alerts
8 Posted
Golf Course Reviews
Rustic Canyon Golf Course
Moorpark, CA
Reviewed by:

Kristof, Melbourne
Played this in December on the last day of our trip after driving back from Scottsdale. It is a solid and interesting course, quite flat with some gentle undulations through the round. It was very dry overall but the greens were superb although quite hard to read. Strategy wise I found it challenging with a number of options on most holes. For a short driver like me the carries...
» More
Soule Park Golf Course
Ojai, CA
Reviewed by:

Burcham5, Valencia
Out to Ojai to play Soule Park. On another miserable 75 degree so cal day. Course was packed, they were running 45 minutes behind so my 12:16 tee time turned into 1. Needless to say we didn't finish the round before dark and we only got in 16, POP was horrific and this is why I don't normally play the weekends. However I do like this course, greens were fantastic, tee boxes, fa...
» More
Coto de Caza Golf Club (South): Private
Coto de Caza, CA
Reviewed by:

weber, coto de caza
Finally after almost a week, the South course was reopened. (Cart path only) I always walk so does not impact me, but unlike the North course, fairways were very wet ! No casual or standing water, but still really wet.
The greens probably rolled as well as I have ever seen them since the course opened in 1995 (A week of no play will do that ) Bunkers, like the Nort...
» More