Over 65,000 Members!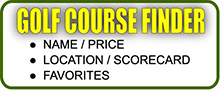 Greenskeeper.org Info
"Know Before You Go"
free online community, golf social network, golf course reviews, course maintenance alerts, photos, specials, tee times, outings, more.
---
Golf Course Maintenance Alerts + COVID-19 Coronavirus
136 Posted
Golf Course Reviews
World Woods Golf Club (Rolling Oaks)
Brooksville, FL
Reviewed by:

24hourgolf, San Marino
Played Pine Barrens in the AM. Took some lunch and played Rolling Oaks in the PM. Rain tomorrow so wanted to play while the weather was nice. Both courses have their own flavor and design. So it is really like playing two different courses. I have always been impressed with what Fazio did here when he designed these course. The fairways are so green and lined with majestic Oak ...
» More
World Woods Golf Club (Pine Barrens)
Brooksville, FL
Reviewed by:

24hourgolf, San Marino
No trip to FL is complete without playing at one of my top 5 golf facilities. Two wonderful Fazio courses and the best practice facility I have ever seen. + 3 practice holes. + A 2 acre putting course. + A 9 hole short course. I would dare say it is a golfers nirvana. We played here today in beautiful weather. It is very hard to imagine I was introduced to this place over 25 ye...
» More
Rustic Canyon Golf Course
Moorpark, CA
Reviewed by:

rgm2525, chatsworth
Played 3-2-21 afternoon walking as a foursome on a TeeOff deal for $13.50, and finishing in a little under 4 1/2 hours. Tee boxes were very green and lush, mostly level with minimal divot damage on par threes. Fairways were yellow and firm with tight lies, just how they should be on a links course. Some of the fairways had some minor bare spots here and there but nothing major....
» More