Over 65,000 Members!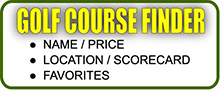 Greenskeeper.org Info
"Know Before You Go"
free online community, golf social network, golf course reviews, course maintenance alerts, photos, specials, tee times, outings, more.
---
Golf Course Maintenance Alerts + COVID-19 Coronavirus
275 Posted
Golf Course Reviews
Glen Ivy Golf Club
Glen Ivy, CA
Reviewed by:

abbacat, Trabuco Canyon
I played today with Ed, Christal and Greg (Caligolfer1031). We had a tee time of 8:56 a.m. I had booked on GN but they very kindly gave me their senior rate which saved a few dollars.
Conditions were pretty much the same as described by sr129. The fairways were more brown than green.. Overall, they were cut very short but I happily found many plusher lies that really h...
» More
Willowick Golf Club
Santa Ana, CA
Reviewed by:

Joefoot, Tustin
Played Willowick last week and boy has this course taken a turn for the worse. We had a 830 tee time and when we showed up there was 5 groups waiting to tee off and we ended up not getting off until 9. Staff was apologetic but it seemed like they were just saving face. We paid $40 to walk and I think that was $20 too expensive for the shape that it is in. Tee boxes looked like ...
» More
Bali Hai Golf Club
Las Vegas, NV
Reviewed by:

mpisarski01, Mars
Joined up with Rob and John for our second round of the day and boy it was a blazer 115° on the first tee at 2pm. I pulled up late but the staff helped me with my bag and let us go whenever because there wasn't anyone waiting. For being extremely hot the last 2 months the course conditions haven't been better. I was amazed on how nice the grass was from tee to green. Everything...
» More