Over 65,000 Members!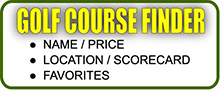 Greenskeeper.org Info
"Know Before You Go"
free online community, golf social network, golf course reviews, course maintenance alerts, photos, specials, tee times, outings, more.
---
Golf Course Maintenance Alerts
11 Posted
Golf Course Reviews
Morongo Golf Club Tukwet Canyon (Champions)
Beaumont, CA
Reviewed by:

SBogey, Big Bear
Played 1-19-22. A beautiful day for golf. Sunshine, light breeze and comfy temps. For some reason the Legends course is closed during the week and as a result had to play the Champions course. I enjoy the front 9 but find the back nine too quirky for my taste. The course is in real nice shape. No brown spots, receptive greens and the bunkers played very well. Often I have found...
» More
Dove Canyon Golf Club: Private
Dove Canyon, CA
Reviewed by:

dconnally, Mission Viejo, CA
Snagged the last spot in a GK Guru foursome at DCCC with JohnnyGK, gary00, and sparky14 ahead of the GolfMoose/GK event to be held there next week. Played at 12:21pm on Tuesday, 1/18/22 under cool, cloudy skies without a lot of wind. The course was pretty busy with a multi-foursome group right ahead of us, and we finished in just over 4.5 hours.
The course is set in a ...
» More
Indian Canyons Golf Resort (North)
Palm Springs, CA
Reviewed by:

paulheanue, plymouth ma
What a great place!!! everything- majestic mountain views on every hole/course conditions/friendliness of staff, was TOP NOTCH.
I'll start with staff:
- We were greeted in the parking lot by someone with a big smile and friendly greeting who brought out a cart and loaded us up.
- I messed up on booking a tee time, I'd made it for the following day, and we wer...
» More