Over 65,000 Members!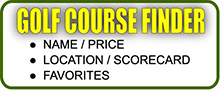 Greenskeeper.org Info
"Know Before You Go"
free online community, golf social network, golf course reviews, course maintenance alerts, photos, specials, tee times, outings, more.
---
Golf Course Maintenance Alerts + COVID-19 Coronavirus
387 Posted
Golf Course Reviews
Woods Valley Golf Club
Valley Center, CA
Reviewed by:

basketball13, san diego
played as a single joining a very older 3some on a very warm turning hot by the time we finished on thursday 9/17...tee time 840..price 34.00 including my own unshared cart..pop was 415..check in very easy/starter assaigned you a cart and 1st tee here we go..pro shop and first tee are about 30 yards apart(that helps when you are running behind and only have 4 minutes before tee...
» More
Rustic Canyon Golf Course
Moorpark, CA
Reviewed by:

PokerGuy0826, Simi Valley
I played as a single on 9/16/2020 with a 10:00am tee time. POP was fine, getting around in 4:10. Marshalls are sorely missed here at times but overall it's not bad.
The fariways and greens were in great shape. A few tees, while mostly lush, have some pretty serious divot damage. If was nearly impossible to find a decent spot on a couple fo the par 3 tee boxes. Ove...
» More
Goat Hill Park Golf Course
Oceanside, CA
Reviewed by:

weber, coto de caza
I always look forward to playing the goat. I can not believe just how much better the course is condition wise from my last time here. Night & Day. And I suspect it will only get better. While the greens roll well, they are still too slow for my taste, but I suspect if they were firm and fast, one would never be able to finish a round of golf there. They are small, undulat...
» More