Over 65,000 Members!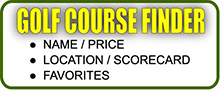 Greenskeeper.org Info
"Know Before You Go"
free online community, golf social network, golf course reviews, course maintenance alerts, photos, specials, tee times, outings, more.
---
Golf Course Maintenance Alerts
233 Posted
Golf Course Reviews
Walking Stick Golf Course
Pueblo, CO
Reviewed by:

24hourgolf, San Marino
After a day of fly fishing, we got back to golf. I have said many times, this is IMO one of the best public courses in CO. And I would put it up against many across the country. Its got elevation, deep rough, small canyons and a cactus you want no part of (called walking stick). And the views to the south of the mountains are just beautiful. Today we found the course in its usu...
» More
Anaheim Hills Golf Course
Anaheim, CA
Reviewed by:

ggonzales, Anaheim
Afternoon tee time at The Hills. Check in and first tee were well organized. Quite a few tee boxes under construction and tees bunched together and had not been moved for awhile. With tees moved up the course was playing short. Fairways and rough have good coverage, traps were all over the map with many wet compacted sand and even though rakes were out people not raking traps. ...
» More
Lake Lindero Country Club
Agoura Hills, CA
Reviewed by:

PickIt, 91362
Just an alert to everyone out there.
The greens on a couple of holes here are on life-support.
Especially seven and eight. There's only nine holes here so take that into consideration.
I want to like this place but I've never seen a green so destroyed as number seven is here. Unreal....
The maintenance crew is attempting to address this s...
» More