Over 65,000 Members!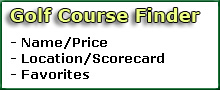 Greenskeeper.org Info
"Know Before You Go"
free online community, golf social network, golf course reviews, course maintenance alerts, photos, specials, tee times, outings, more.
---
Golf Course Maintenance Alerts
291 Posted
Golf Course Reviews
Papago Golf Course
Phoenix, AZ
Reviewed by:

sdscratchorbust, Scottsdale
Played here at twilight with KC Leonard again Went off at 4:30 finished under 3 hours.
I loved watching the Cartbarnguys and wanted to play here. They recently finished the massive renovation of the clubhouse, ASU practice facility, and driving range. The amenities are awesome. Top notch club house, amazing staff, great open aired bar. While I didn't want to hit ba...
» More
Morro Bay Golf Course
Morro Bay, CA
Reviewed by:

Nickesquire, Cambria, CA
Walked the Blacks (6360/70.8/119) in 3.5H with Mneilson super twilight. Partly cloudy, breezy and around 65 made for a nice late afternoon round.
The tees had good coverage, Okay overall, but most of the par 3's were chewed up with divots.
The fairways had good coverage, pretty lush for kikuyu. Not much roll on these fairways.
The rough was lush, not hig...
» More
PGA WEST (Stadium Course)
La Quinta, CA
Reviewed by:

hammer74, Los Angeles
This is my son's first time at the Stadium course. Arrived at 5:40am for our 6:09 tee time. As we left our clubs near the bag drop, an attendant greeted us and loaded them to our carts. We walked in through an impressive clubhouse that includes Ernie's (which happened to be closed still). We promptly got checked in and off we go to warm up.
All grass driving range...
» More