Over 65,000 Members!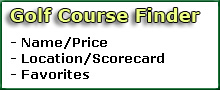 Greenskeeper.org Info
"Know Before You Go"
free online community, golf social network, golf course reviews, course maintenance alerts, photos, specials, tee times, outings, more.
---
Golf Course Maintenance Alerts
229 Posted
Golf Course Reviews
Los Coyotes Country Club: Private
Buena Park, CA
Reviewed by:

24hourgolf, Monterey Park
Played today on a Players Club invitation sent out to American Golf courses. We were able to get out early and played in 3.5 H. This is a fabulous course. We played the Valley/Vista and were sorry we could not play the Lakes 9, to experience all 27 holes. Customer service at check in (thank you Daniel) was great. Plenty of balls on the driving range to warm up and the putting ...
» More
Arrowood Golf Course
Oceanside, CA
Reviewed by:

weber, coto de caza
7:08am tee time, the first "non-member" time available. I had concerns because there must have been 6-7 groups out in from of our threesome, but we were assured that they played quickly, so pace of play would be fast. For once, things were correctly represented. We played in 3hours 8 minutes, which considering how many groups went out in front of us, very impressed.
» More
Tijeras Creek Golf Club
Rancho Santa Margarita, CA
Reviewed by:

blakej824, Seal Beach
Played 3/17 at 3pm. Got through 13 holes in 4 hours before giving up. Course is a bit stuffy, employees were hit or miss with some being nice and others aloof. Conditions were great for the price paid (sub $40).
Tees: A bit chewed up in places but overall nice and flat with good coverage. 6.5.
Fairways: Great. Really the highlight of the course. 8.5.
Ro...
» More