Over 65,000 Members!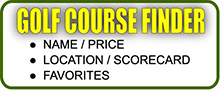 Greenskeeper.org Info
"Know Before You Go"
free online community, golf social network, golf course reviews, course maintenance alerts, photos, specials, tee times, outings, more.
---
Golf Course Maintenance Alerts + COVID-19 Coronavirus
34 Posted
Golf Course Reviews
Trilogy Golf Club at Vistancia
Peoria, AZ
Reviewed by:

UNCLEDDBOY23, Peoria, Arizona
Overview: Trilogy Golf Club at Vistancia is in the Shea Homes built master planned community of Trilogy at Vistancia. The golf club was designed by Gary Panks and opened for play in February of 2004. The links style course has 70 pronounced and transitional bunker areas. Originally the course had a beautiful golden hued native grass that grew about 10-15 yards off the edge of...
» More
The Golf Club of California
Fallbrook, CA
Reviewed by:

weber, coto de caza
Always one of my favorite golf courses to play, and with the vast improvement of the greens, it just makes it all the more enjoyable. Staff is always fantastic, friendly and accommodating.
Conditions, even with the recent cold weather have improved since I last played here. Still some issues with the fairways, but nothing too severe. Rough was a mixed bag, but again, ...
» More
The Saticoy Club: Private
Somis, CA
Reviewed by:

bnr1986, hollywood
played the rare away round here in early november on a week day through a reciprocal website agreement. had long at the saticoy club on my radar and finally took the long ride up from LA to play it. played the tips (~7k or so in yards, the scorecard for this course on GK is not current, should be updated) which are 74.6/138. i came away very impressed with the saticoy club. if ...
» More