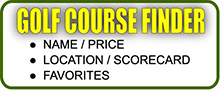 Golf Courses
Golf Course Features
Book Tee Times
Tee times provided "directly" by golf courses. Book here!
Golf Course Specials
Take a look at all the current specials available for golf courses listed under Greenskeeper.org.
Golf Course Reviews
Take a look at the latest Golf Course reviews posted by our members.
Rate a Golf Course
Just coming back from playing a course? Rate it!
Top 25 Rankings
Take a look at the current top 25 ranking golf courses on Greenskeeper.org! You can also break it down by location as well.
Latest Golf Course Reviews
Top 100 Total Reviewers
Rated by golf course reviews the user has submitted.